Welcoming a new pet into your home is a very exciting time for everyone in the household.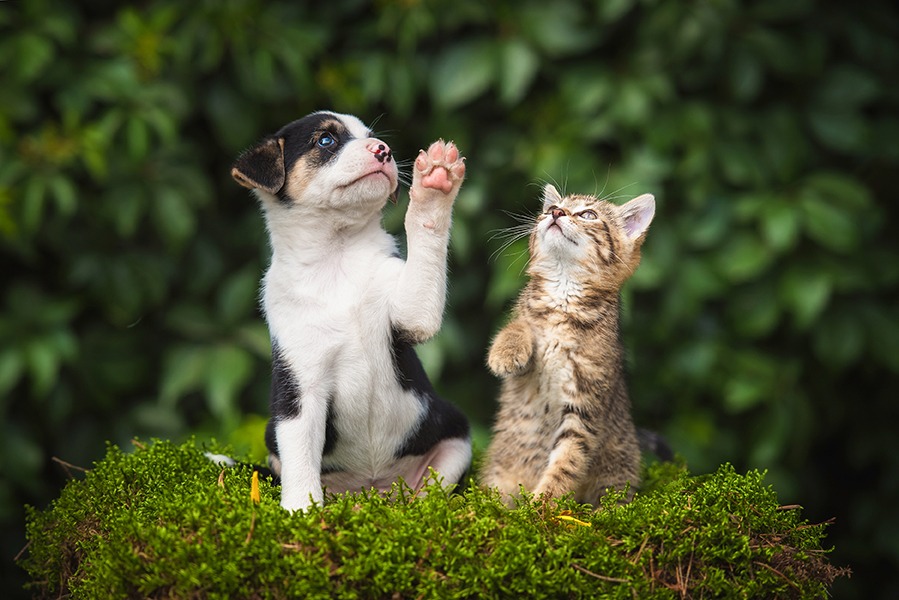 However, it can be a daunting experience for your furry friend. It's important that you prepare for the arrival of your new kitten or puppy, allow them time to adjust to their new environment and also set boundaries and rules from start. By starting off on the right foot, you can cut short that rocky adjustment period most new relationships go through.
How to prepare your home for a new pet 
Bringing home a new pet is a big commitment – you're welcoming a new member into the family. It's important to prepare for the arrival of your new companion.
Have a family meeting

– It's vital to make sure that everyone in the household is on board with having a pet. Set boundaries from the start and decide who is going to be the primary caregiver.

Stock up on essentials

– Make sure you buy all of the must-have items before the arrival of your pet, such as food, treats, food and water bowls, a collar, lead, new bedding and toys.

Prepare your home

– Put away harsh cleaning products, human medications and household poisons. Re-home any poisonous houseplants and lock away any breakables.

Organise a vet

– Get your pup or kitten registered straight away; it's much less stressful to know they're on the books already, as you'll need to take them for their vaccinations and neutering.
Essential items for your new cat or dog
Suitable kitten or puppy food

 

A litter tray or puppy training mat

Grooming equipment

A collar and lead

Toys

Food and water bowls

A carrier for a kitten or cat or a crate for a puppy
How to introduce a pet to their new home
While it can be tempting to throw open the door and welcome your new pet with excitement and open arms, you could essentially be planting the seeds for future issues. Entering a new home can impact your pet's stress levels, so it's necessary to create a calm environment.
When bringing home a puppy:
Everyone in the household, including any children, should try to stay calm. During the first day or two, keep the mood mellow. Hold off on inviting guests over until your pup settles in.

 

Introduce your dog to their crate. Crates are the best way to house train, but most dogs need a little time to warm up to them.

The earlier you start training, the better. Set boundaries right away and ensure that your pup learns house rules.

Allow your pet to dictate the pace of your interactions; some puppies might be super friendly, others may prefer to get to know you more slowly.
When bringing home a kitten:
Make sure you're prepared for the journey home. Car travel can be a bit disorientating and nerve-wracking for your kitten, so place their carrier on a flat secure space in your car and cover it with a blanket.

Give them time to adjust at their own pace. Once you're home, place your kitten's carrying basket on the floor, open the door, then let them come out in their own time.

Keep your new kitten indoors for the first 2-3 weeks to allow them time to get to know you and all the different smells and sounds in their environment.

Cats may go off their food for a while if they're a bit stressed, so don't worry if your kitten doesn't have an appetite. Give them time to settle in and their hunger for food should soon return.
Teach your children to behave calmly around dogs and cats
It is important that children learn to behave properly around dogs and cats to prevent accidents from occurring. When you first introduce a new kitten or puppy to your home and family, make sure that you start by communicating to your children the importance of not treating their new pet like a toy.  Supervise all initial interactions and ensure that they give the opportunity to settle into the new space.
How to get your puppy into a routine
Feed your puppy three meals a day, at the same time every day.

Establish an exercise routine with scheduled walks and playtime.

Bedtime for your puppy should be at the same time every night.

Allow time for bathroom breaks – an adult dog needs to be let out every 6-8 hours, puppies may need the toilet more often.
How to get your kitten into a routine
Feed your kitten with specially-formulated nutritional kitten food at the same time every day.

Establish a grooming routine – longhaired kittens should be groomed daily and shorthaired kittens twice a week.

Set ground rules for your kitten's behaviour, and be consistent in enforcing them.

Play regularly with your kitten as it's important for their development.

Begin litter tray training immediately.
How to relax your pet
Introducing a pet into a new home can cause them to experience stress. Bob Martin Stay Calm Oil is a highly effective, daily supplement which naturally relaxes and calms timid or overly-excited pets. The oil helps to ease stress in cats or dogs displaying common behavioural issues such as excessive barking, scratching, chewing, shaking or generally being unsettled. Containing a unique blend of Valerian, Chamomile and Ginger oil, all known for their calming, relaxing and soothing properties, this is a natural remedy to help calm your dog. Always follow instructions before use.
There are also some more practical things you can do to help keep things as relaxed as possible:
       

Try to give your pet a safe place they can retreat to if they get anxious, stressed or overwhelmed and give them space.

       

Teach your children to behave calmly around your pet and establish that it is an animal, not a toy, so as to prevent any possible accidents.

       

Give your pet access to outdoor space and take them outside regularly, exercise is a great way to reduce stress levels.