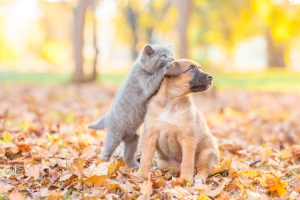 Autumn is fast approaching and the change of the leaves brings a change in everyone's daily routine. You need to keep in mind that your four-legged family members need to prepare for the Autumn months too. Take a look at our autumn essentials for keeping your pet happy, healthy and safe in the upcoming season. Some are necessary for the well-being of your pet, others are practical and fun to have. 
Flea and Tick Prevention 
Weather changes can impact the flea life cycle and these tough parasites have several survival strategies to keep them alive all year. They are typically difficult to see when they first attach so prevention is better than cure. Using Bob Martin Clear Plus Spot-On is the perfect way to kill ticks, fleas and their eggs during autumn. 
Worming 
Just because your pet appears healthy, doesn't mean they're necessarily free from worms. It may be difficult to detect signs of worms in your pet, but it is important to have a monthly worm treatment in place. Worming your pets on a regular basis will keep troublesome parasites away all year round. Shop Bob Martin for all the worming treatments you need for this Autumn.  
Grooming
This is the time of year when your pet's summer coat begins to shed in preparation for their thicker winter coat to grow in. Simply brushing your pet's fur on a regular basis helps to remove dirt, debris and any loose fur, keeping their skin clean and bacteria-free. It will also go a long way when it comes to keeping your home clean and allergy-free!
Nutrition 
Just like humans, a balanced diet is crucial if you want to keep your pet fit and well. We all know how much our pets love to eat! Giving your pet nutritious, tasty food is a good way to show them how much you care. However, it is worth keeping in mind that too much food can have a negative impact and sometimes cause obesity. Good nutrition and weight maintenance provides an overall boost to the immune system and improves their health in the long term as there is less stress on their organs. 
Hydration
Fresh water should be readily available 24-7 for your pets in order to keep them bright-eyed and bushy-tailed. Water is required by the body to perform the most crucial processes, such as digestion, circulation, waste filtering and body temperature management.
Coat 
All paw-rents like keeping warm in the colder months with a soft fleece or jacket, and our furry friends do as well! In the autumn months, cats and dogs of all breeds can benefit from wearing a jacket to keep them extra warm and snug, especially in the afternoon and at night when temperatures begin to drop.
Illuminated collar 
With the days getting steadily shorter, many pet owners will be taking their dogs on walks long after the sun goes down. To boost your pooch's safety, we recommend an illuminated or reflective collar for those late night walks. You will be able to alert oncoming traffic of your presence and they can even help you find your pet when they have gone off to chase that ever elusive squirrel.
Cosy Bed 
After those crisp late night walks there is nothing better than getting into a warm bed. Your pets will all love a comfortable and safe place to sleep with extra cushioning that will keep them warm as temperatures start to drop. 
Love
Pets need loving care all year round and a part of that love is adapting to your fur baby's needs as the seasons change. Love has a huge effect on the health of both humans and pets. It can stimulate long and short term happiness and the euphoric feeling can reduce stress and anxiety levels. What better reason to snuggle up with your pet on the sofa when the days start to get a bit colder!
With summer coming to an end and autumn drawing close, these essentials will certainly have you ready for the changes of weather. Follow us on social media to keep up to date with our tips and advice.