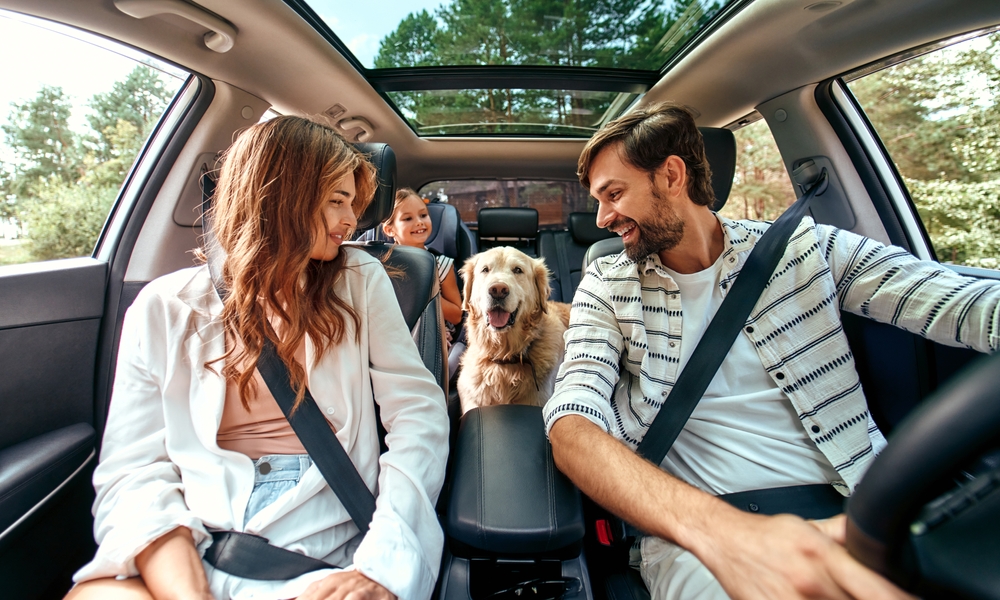 Whether you're craving long walks on the beach with sand between your toes (or paws!), or hikes over misty mountains, we're all dreaming of some kind of summer getaway. Whatever you're dreaming of, there's only one thing that makes that dream even dreamier… a holiday with your furry best friend.
The UK is home to plenty of tail-wagging destinations, which we sometimes take for granted. Enjoying a staycation here in the UK avoids the stresses of airports and flights.
Here are our top tips for choosing a holiday with your fluffiest favourite family members.
Choosing A Dog Friendly Destination
There are so many fantastic dog friendly destinations around the UK; the problem is deciding where to go! Planning your location is really important because while we are a nation of dog lovers, every destination is different. Some may have an abundance of dog friendly places to visit, while others may be limited.
Before planning your location, think about what you want to do while you're there. If you're looking to cram your holiday with dog friendly adventures then destinations such as Cornwall, Devon, Lake District and New Forest would make a great choice. If you're looking for somewhere remote, where you can connect with nature and focus your holiday around walks, locations like the Scottish Highlands, Yorkshire Dales or North Wales would be ideal.
Research the areas you're thinking of using websites such as Dog Furiendly! Compile a list of dog friendly activities and eateries, and write up a rough itinerary to make sure that you're not stuck for ideas when you arrive.

Choosing Dog Friendly Accommodation
Wherever you go, you want to know that your furry companion will receive a warm welcome.
There are a range of accommodation types to choose from, but always remember one hotel will be completely different to the next. Every place has different rules and tail-wagging perks for your dog to enjoy during their stay.
This is the place you'll call home for the time you're away, so it's important to consider some of the following things:
Toilets: While we're lucky enough to have our own bathroom or en-suite in the majority of accommodation, our dogs are not. Always check where they would go, when they need to 'go'. The last thing you want is to wake up at 3am with a mission to get outside.
Restrictions: Different rules apply for different properties. One hotel might allow you to explore with your dog throughout, while another may have restrictions or certain allocated areas. For example, perhaps they're not allowed in the restaurant, or they're only allowed on a certain floor. It's always better to check the rules before booking, so you're not left short if you need to find a last minute dog friendly restaurant!
Extra Costs: Many places will have an additional charge for a dog. This is to account for the extra cleaning that may be required. Always check what the additional charges are and whether or not it's payable in advance or on the day.
Furniture: Very few accommodation providers will allow your dog to jump up onto the furniture. It's always good to check this in advance. If your dog is used to jumping on the furniture as they do at home, teach your dog the phrase 'down' before visiting. If there are rules in place, it may be useful to take your own bedding and blankets for that extra added protection.
Doggy Essentials: Make sure they have a comfy bed to retreat. There are places who will provide doggy bedding, and dog bowls if you don't want to lug too many things around. However, also consider whether or not your dog will find more comfort in having their own bed with them.
Doggy Criteria: It's also worth noting that some accommodations have limits on how many dogs are welcome to stay. If you're planning on taking more than one dog, then always check before booking. Some places may also have restrictions on the size of dog. This is usually when the property is too small to accommodate a big dog. If they don't specify on their website it's often worth sending them an email to check.
Read online reviews for your potential choices. Have other dogs stayed there before? Look for feedback from other dog owners as this will most closely relate to your potential experience during your staycation. Whatever rules are set in place, just remember to be respectful.
Choosing Your Travel Options
Safety is always a priority while travelling with your dog. So before travelling, consider how comfortable and safe it is for your dog to travel in your car. It is a legal requirement for your dog to be restrained, so be sure to invest in a seat belt and harness to protect your dog along the way.
If travelling via a different method of transport, you want to ensure that it will permit dogs before you leave. The majority of trains are dog friendly, however buses travelling long distances such as the National Express or MegaBus are not.
If you're travelling by taxi, phone and book in advance, confirming whether or not they allow dogs. Uber has recently launched a pet friendly service, however it's important to remember that Ubers are often only available in built-up areas such as the big cities.
The distance being travelled should also be carefully considered too. Car travel in general can be very stressful for dogs. Break up the journey with regular stops for toileting, stretching and drinking water.
Very few service stations are dog friendly. Never ever leave your dog in the car alone if you're popping into the service stations, not even if you're going to be a 'couple of minutes'. A 'couple of minutes' could be fatal to our canine companions, and that's no way to start or end a holiday, or any other kind of day!
Taking Safety Precautions
We're sure you'll have a wonderful time on your dog friendly staycation with your family. Most holidays go off without a hitch. However, it's always best to be prepared for the worst case scenario. In this case, you should look up local vets near where you'll be staying. Save their number and should the worst happen, you'll be able to get your pooch medical assistance as soon as possible. It's also important to make sure your dog's microchip details are up-to-date with an appropriate collar and ID tag.
Start Planning!
Hopefully this guide will help you to put the wheels in motion for your dog friendly holiday.
Looking for places to stay or visit with the dog during your holiday? Check out Dog Furiendly, a free travel platform and app listing dog friendly places in the UK, including places to stay, places to eat and things to do.