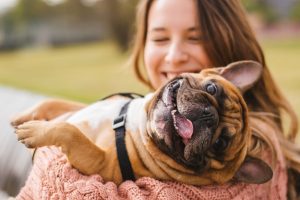 They get you moving 
We're willing to bet that just uttering the word 'walk' puts a spring in your dog's step. All pets need exercise appropriate for their age and breed, but staying active also works wonders for pet parents too! Studies show that even a short burst of 10 minutes' brisk walking increases our mental alertness, energy and positive mood. For those with anxiety or depression, just getting ready to go out can be difficult but with your fur baby by your side, maintaining an active, consistent routine is a little bit easier. For those days when you're feeling blue, get out into nature with your best friend and you should feel your spirits lift.
They give you comfort
One of the best things about being a pet parent is all the cuddles (and sometimes even kisses!) you get from your pooch. While not all dogs (or dog owners) are affectionate, studies show that hugging your pet releases the Oxytocin hormone, which makes you feel calm and happy. To combat any feelings of sadness you might have, snuggle up on the sofa with your canine companion and the world will be sure to feel a bit brighter with your fur baby in your arms. 
They help boost your confidence
Mental health issues can have a massive impact on our confidence. Many dogs act as the 'protector', especially where their owners are concerned. Many of us also naturally feel more self-assured with our dogs by our sides, so it comes as no surprise that our dogs can really help our confidence! As much as our dogs depend on us, we depend on them just as much. 
They give you a sense of purpose
Many people with depression report feeling the need to sleep excessively. When you have a dog, you have responsibilities and can't lie in bed all day. In short, they give us a reason to get up in the morning! People need purpose and what better purpose is there in life than caring for your furry best friend? Having a purpose provides us with a sense of well-being and achievement, improving our overall outlook on life. 
They love you back! 
If you give your pooch your heart, they will give you theirs right back. Dogs are very sensitive creatures and are more in tune with the emotions of those around them than you would think. They get a sense when someone cares about them and will always be loyal to their primary caregivers. Having someone around that loves you (even if that someone is covered in fur within a waggy tail!) does wonders for our mental health. There is nothing quite like coming home at the end of each day and seeing your best friend rush to meet you with a big smile on their doggy face! 
Unfortunately, dogs can also suffer from mental health related issues. Bob Martin are proud to offer a wealth of information around caring for your pets and even offer a range of healthcare products to calm anxious dogs. Shop the full range online today.
If you're suffering from anxiety, depression or any other related mental illnesses, there is a wealth of information online to help you. We have included some links below. 
If you are concerned about your own mental health or the mental health of someone you care about, you should call NHS 111 or make an appointment with your GP, who can refer you to the right services. For emergencies, call 999. 
https://www.nhs.uk/mental-health/
https://www.mentalhealth.org.uk/getting-help 
https://www.nhs.uk/mental-health/nhs-voluntary-charity-services/charity-and-voluntary-services/get-help-from-mental-health-helplines/