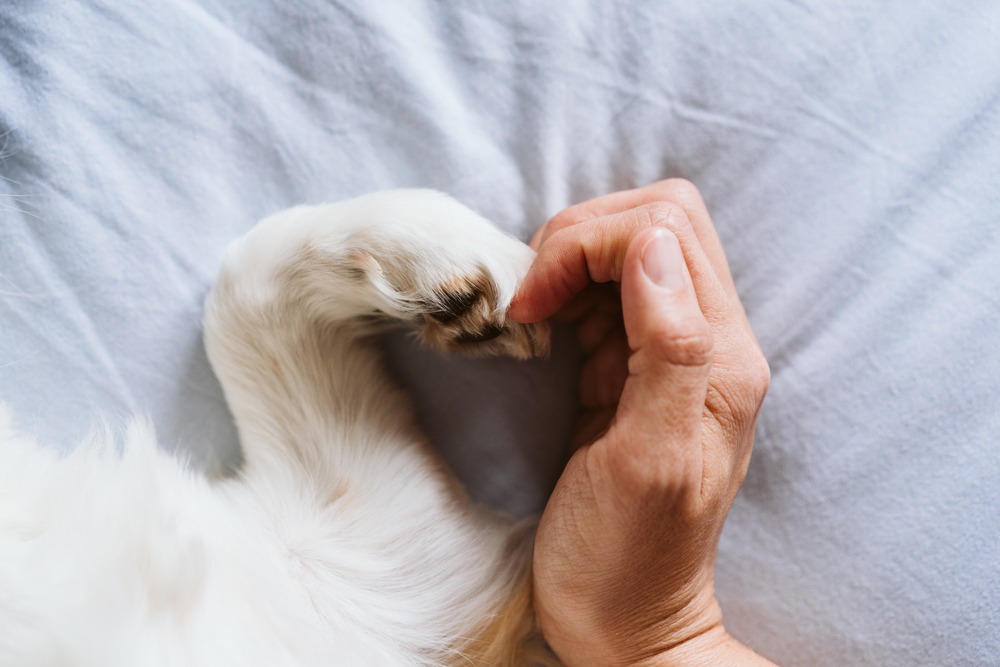 The 14th of February is all about celebrating your nearest and dearest. If your dog is your Valentine this year, we have no doubt that you'll have the most amazing day with them! Read on for the 10 reasons why dogs make the best Valentines. 
1. They give the best cuddles
Dogs give the best cuddles, there's absolutely no doubt about that. This Valentine's Day, snuggle up with your pooch on the sofa and we're willing to bet it'll be the best cuddle you've had in a while.
2. They don't know how to talk  
You don't need to worry about being stuck for conversation with a dog. They happily enjoy your company whether you're gushing words of praise or completely silent. The bond between you needs no words.
3. They can't argue
We've all had one of those Valentine's Days that ended in an argument. Luckily, the chances of you having a disagreement with your pet are slim to none. Dogs will follow your lead and go with the flow. 
4. They don't care what you look like
Want to spend Valentine's Day in joggers and a t-shirt? News just in- your dog doesn't care what you look like and will love you when you're dressed to the nines or when you have messy hair and holes in your clothes. The love dogs have for their owners is completely blind and pure. 
5. They don't care about labels 
Sick of buying expensive gifts on Valentine's Day? Well, dogs don't care about how much money you've spent on them or expensive labels. Give them a tasty treat or a cute squeaky toy and they'll be over the moon. 
6. They won't hog the remote
Fancy getting snuggled up and watching a chick-flick? Your dog won't mind! One of the best things about your dog being your Valentine is having full control of the remote. Soppy romance, here we come. 
7. You don't have to share your food
Sure, dogs would like it if you shared your food but they're much better off eating food specifically designed for them. You can enjoy your steak in peace and not have to worry about sharing your plate of chips. 
8. They don't mind taking 100+ selfies
What could be better than a Valentine's selfie with your pooch? Lucky for you, dogs really don't mind taking selfies with you, so you can snap away to your heart's content. This Valentine's Day, why not frame your favourite picture of you and your pooch?
9. They have pretty low expectations
Dogs don't expect the world on Valentine's Day. The pleasure of your company is all they need. You don't need to make any special arrangements or plan in advance; all you need to do is make some time to spend with your pet. 
10. They love you unconditionally 
If you give your dog your heart, they will give you theirs forever. One of the best things about being a dog owner is all the unconditional love. Isn't that what Valentine's Day is truly about? 
Is your pet your 2022 Valentine? Connect with Bob Martin on social media and tell us how you plan to spend the day!