Treatment
Bob Martin Clear Flea Tablets for Cats, Small Dogs and Puppies - 3 Tablets
All Cats
Small Dogs (2kg-10kg)
Kills 100% of fleas in 24 hours.
Effective within 15 minutes
Used as a first response to combat fleas.
Recommended for use alongside a course of treatment for your pet and home .
Suitable for use on adult cats, small dogs and puppies from 4 weeks.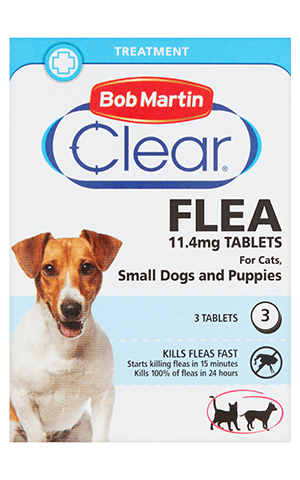 Kills
Fleas
More Info
Bob Martin Clear Flea Tablets for Cats, Small Dogs and Puppies are small, easy to use and a highly effective method of killing fleas. The effects are immediate and will kill 100% of fleas within 24 hours. 
The tablets can be given directly or hidden in some food and are suitable for adult cats and dogs, pregnant and suckling mothers as well as puppies from 4 weeks.
How to use
Give the tablet as soon as fleas are detected. Fleas can be detected by parting the pet's coat or by combing it with a fine-toothed flea comb.
Frequent scratching or excessive grooming can also be signs of flea infestation. 
Directions for use:
Weigh your cat or dog to confirm the correct dose required.
Give one 11.4 mg tablet for adult cats, small dogs and puppies between 1-11.1 kg .
Bob Martin Clear Flea Tablets can be given directly into the mouth or disguised in food.
Bob Martin Clear Flea Tablets are an effective method of killing adult fleas on your pe. When used alongside Bob Martin Clear Plus this is a fully effective programme to eliminate flea eggs and larvae on the pet and in the pet's surroundings. Pet bedding and favourite resting areas should be vacuumed regularly, washed above 40 degrees celsius and treated with a suitably approved insecticide preferably containing an Insect Growth Regulator (IGR). Consult your vet if signs of health concerns persist.
Frequency
Give the tablet on any day when fleas are detected and repeat on any subsequent day, but do not give more than one treatment per day.
Ingredients
Each tablet contains 11.4mg Nitenpyram:
Nitenpyram

is a

neonicotinoid insecticide, which after oral administration, gets into the blood of the pet and reaches the fleas whilst biting
Indications
ADVERSE REACTIONS
For the first hour after administration, the pet may scratch more than normal. This effect is caused by the fleas reacting to the product. In very rare cases (less than 1 in 10,000 animals) this may present as transient signs of hyperactivity, panting, vocalization and excessive grooming/ licking. 
Transient neurological signs such as muscle tremors, ataxia, and convulsions have also been reported in very rare (less than 1 in 10,000) occasions. 
If you notice any of these serious effects or other effects not mentioned in this leaflet, please inform your vet.
HOW DO I USE THIS PRODUCT SAFELY?
Read the package leaflet before use. Keep out of the sight and reach of children.

For animal treatment only.

Do not store above 25°C.

Dispose of used packaging in household refuse.

Do not use these tablets after the expiry date printed on the blister foil.

Keep foil blister in outer carton.
How We Compare
Product
Kills Fleas
Kills Flea Larvae
Starts killing fleas in 15 mins
Kills 100% fleas within 24 hours
Available in all major supermarkets
In-store self service
Active Ingredients
More than 125 years of expertise

Product

Bob Martin Clear

Kills Fleas

Kills Flea Larvae

Starts killing fleas in 15 mins

Kills 100% fleas within 24 hours

Available in all major supermarkets

In-store self service

Active Ingredients

Nitenpyram

More than 125 years of expertise

Product

Johnson's 4fleas

Kills Fleas

Kills Flea Larvae

Starts killing fleas in 15 mins

Kills 100% fleas within 24 hours

Available in all major supermarkets

In-store self service

Active Ingredients

Nitenpyram

More than 125 years of expertise

Product

Frontline

Kills Fleas

Kills Flea Larvae

Starts killing fleas in 15 mins

Kills 100% fleas within 24 hours

Available in all major supermarkets

In-store self service

Active Ingredients

More than 125 years of expertise

Product

Beaphar

Kills Fleas

Kills Flea Larvae

Starts killing fleas in 15 mins

Kills 100% fleas within 24 hours

Available in all major supermarkets

In-store self service

Active Ingredients

More than 125 years of expertise

Product

Itch Pet

Kills Fleas

Kills Flea Larvae

Starts killing fleas in 15 mins

Kills 100% fleas within 24 hours

Available in all major supermarkets

In-store self service

Active Ingredients

More than 125 years of expertise
Bob Martin Clear
Kills Fleas
Kills Flea Larvae
Starts killing fleas in 15 mins
Kills 100% fleas within 24 hours
Available in all major supermarkets
In-store self service
Active Ingredients
Nitenpyram
More than 125 years of expertise
Johnson's 4fleas
Kills Fleas
Kills Flea Larvae
Starts killing fleas in 15 mins
Kills 100% fleas within 24 hours
Available in all major supermarkets
In-store self service
Active Ingredients
Nitenpyram
More than 125 years of expertise
Frontline
Kills Fleas
Kills Flea Larvae
Starts killing fleas in 15 mins
Kills 100% fleas within 24 hours
Available in all major supermarkets
In-store self service
Active Ingredients
x
More than 125 years of expertise
Beaphar
Kills Fleas
Kills Flea Larvae
Starts killing fleas in 15 mins
Kills 100% fleas within 24 hours
Available in all major supermarkets
In-store self service
Active Ingredients
x
More than 125 years of expertise
Itch Pet
Kills Fleas
Kills Flea Larvae
Starts killing fleas in 15 mins
Kills 100% fleas within 24 hours
Available in all major supermarkets
In-store self service
Active Ingredients
x
More than 125 years of expertise