Prevention
Bob Martin Clear Pesticide-Free Flea and Tick Spray For Cats and Home
Pesticide free.
For cats and home.
Protection for up to 4 weeks.
Breaks the flea lifecycle.
Controls larvae.
Controls eggs.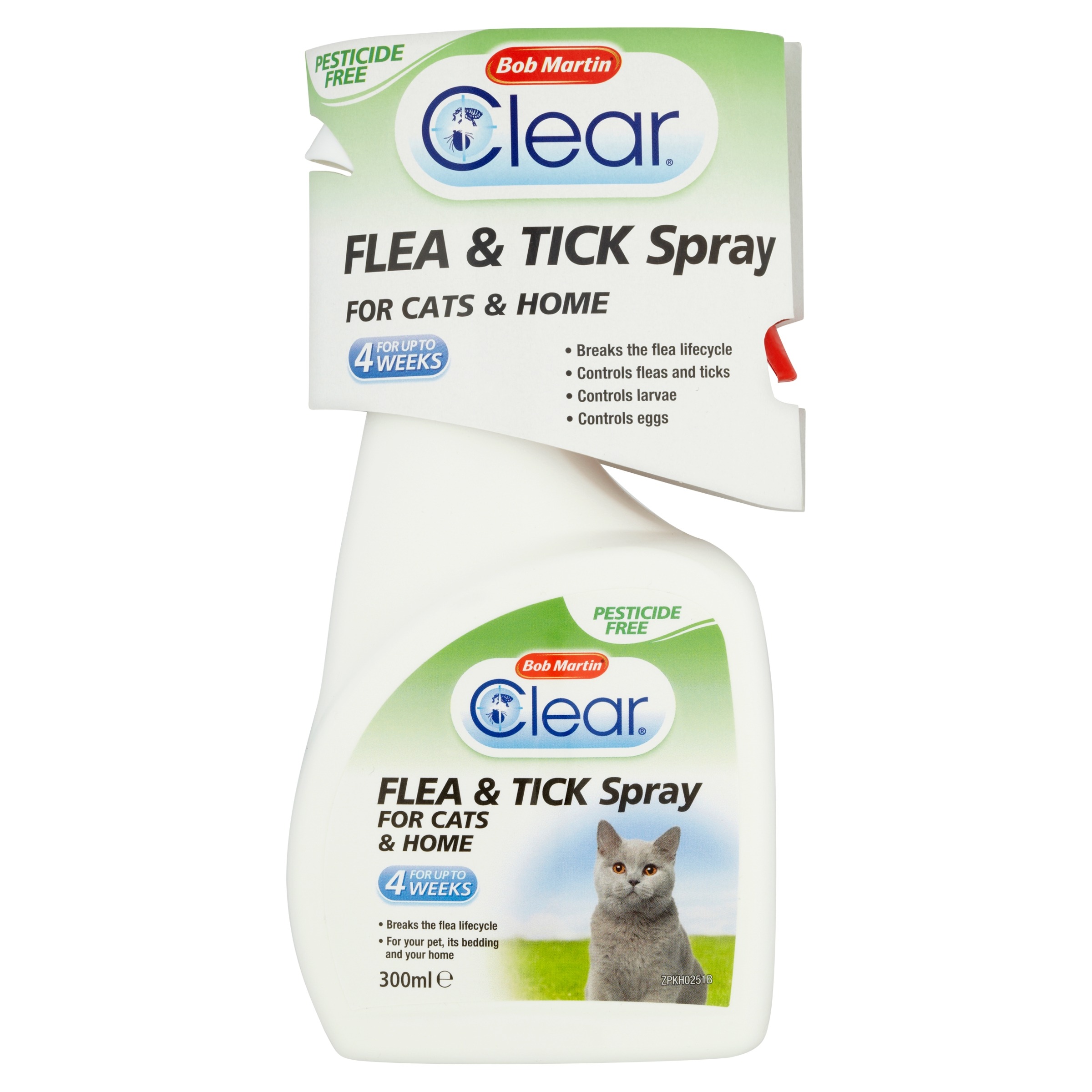 More Info
Bob Martin Clear Flea & Tick Spray for cats & home control fleas and ticks both on your cat and in your home. 
This pesticide free spray works in a unique way by immobilizing the flea or tick. 
The unique 'sticky trap' works against fleas at all stages of the flea lifecycle – larvae, eggs and adult fleas – helping to stop flea infestation.
How to use
Shake the spray gently, immediately prior to use.
Directions for use for your cat:
Brush the coat against the lay to expose the skin. Spray from a distance of approximately 10cm, avoiding all sensitive areas, in particular eyes and ears.
Pay attention to the base of the tail and around the neck area where fleas tend to congregate.
Use 2 pumps per kilo of body weight. It is easier to treat your cat in the evening and to allow the coat to dry overnight.
Brush the coat the following day to remove any flea debris.
The product will leave a silky film on the coat but this is perfectly safe.
Directions for use for your home:
Before spraying on carpets and soft furnishings test a small inconspicuous area to test for compatibility.
Spray from a distance of 30cm, applying 17 pumps uniformly across each square metre of surface.
Avoid spraying onto wooden and laminate floors as this product will make the flooring slippery.
Ingredients
Contains Dimethicone.
Dimethicone

acts as a 'sticky trap' that covers the parasite and immobilises it, like a very thin layer of "glue".
Indications
For external use on cats and for use around the home only.
For Safe Use: 
Avoid contact with eyes. Should eye contact occur rinse well with plenty of water. If irritation occurs seek medical advice. 

Wash hands after use. 

Avoid breathing mist and use in a well-ventilated room.

Keep away

from food, drink and animal feeding stuffs. When using do not eat or drink. 

If swallowed seek medical advice immediately and show this container or label. 

Keep cats away from varnished, polished, plastic or leather surfaces until completely dry. Take particular care around leather upholstery.

This product will make some surfaces

slippery. Avoid spraying onto wooden or laminate flooring as it will make the flooring slippery. 
Keep out of the reach of children. Harmful to aquatic life with long lasting effects. Avoid release to the environment. Disposal should be in accordance with local, state or national legislation.  Read the packaging carefully before use for full instructions and all warnings.